Why is HVAC Duct Leak Testing Important?
Duct leakage can account for as much as 25% of total house energy loss.
In many cases duct leakage has a greater impact on energy use than air infiltration through the building shell.
In both new and existing houses, a major source of energy waste is now recognized as leakages in forced air duct systems.
Florisa Code requires new HVAC duct systems to be tested for leaks.
FACTS:
Air conditioning and heating bills can significantly increase due to Leaky Ducts. Duct leakages can result in poor heating and cooling at home, create unpleasant hot or cold rooms and humidity problems in general. And the worst part is that, duct leakages can create air quality problems by pulling pollutants and irritants directly into the house.
(These images show an Infrared HVAC duct leak inspection in a attic. Heat is leaking from duct connections. Seal all connections with duct mastic and perform a HVAC duct leak test to make sure the duct leakage to the outside is below 4% leakage.)
Equipment capacity and performance can be dramatically reduced, as well as potentially dangerous indoor air quality problems may be faced due to Leaky Ducts. In fact, many of the comfort complaints experienced by homeowners today are results of duct leakage.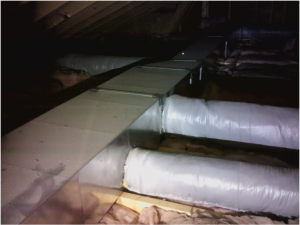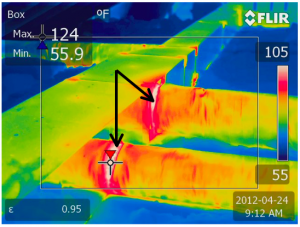 Schedule Your Appointment With Our Technicians Today!
The best part about deciding to use our services is that getting in touch with us has never been simpler. All you need to do is pop us a phone call at (352)-321-0846. Otherwise, if you are on the clock – feel free to check out our Contact Us page.
If you would like to learn more about Calvary Mechanical LLC or perhaps you are simply interested in following along with our ventures – feel free to join our thriving Facebook community. We would love to connect with you.